Post-COVID innovation to save healthcare dollars
By Lawrence Buchan
"Innovation" doesn't need to be complex and expensive. Simple products designed with cost in mind can be just as impactful. Arbutus Medical has embraced a design philosophy of 'frugal innovation' for many years, and now we have noticed a wave of this kind of ingenuity during  COVID times.
Hospitals are losing money due to a few factors: 1) revenue loss due to canceled and postponed treatments, 2) increasing expenditure to treat COVID-19 patients, and 3) purchasing extra equipment and supplies to protect and maintain the safety of staff.
COVID has created what the American Hospital Association called "historic financial pressures for America's hospitals and health systems.". In Canada, for example, the province of Quebec ordered health authorities and hospitals to cut about $150 million from their budgets this year. 
If necessity is the mother of innovation, then the post-pandemic necessity for healthcare will require many low-cost, highly effective innovations. Funding for healthcare is in a critical place, whether it's government-paid like in Canada or the UK, or privately funded as in the United States. Effective innovations that save hospitals money are needed now, and frugal innovators like Arbutus Medical are rising to the challenge.
The DrillCover, Arbutus Medical's technology, turns a reliable hardware drill into a sterile, surgical power tool that can be reused, allowing more safe surgeries and procedures to be done quickly. Aside from the many benefits of orthopedic surgical tools, cost reduction is a top favourite.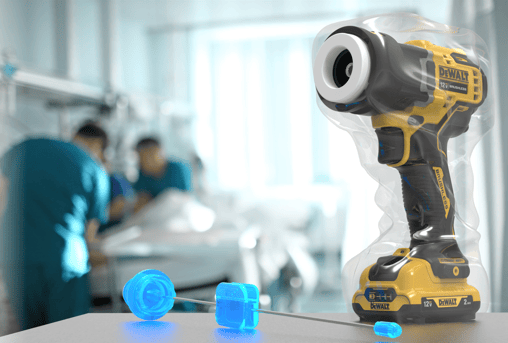 Arbutus Medical's newest , the SteriTrak®
Continuing with frugal innovation in mind, we launched the SteriTrak®, an all-in-one tool that provides all you need for skeletal traction in emergency rooms. This kit simplifies the time-consuming setup during critical trauma procedures.
As the world slowly emerges to a new post-pandemic reality, no doubt we'll continue to see a need for more frugal innovation, especially in our healthcare systems. At Arbutus, we are pleased to supply hospitals with simple orthopedic tools that allow efficiency while reducing cost.