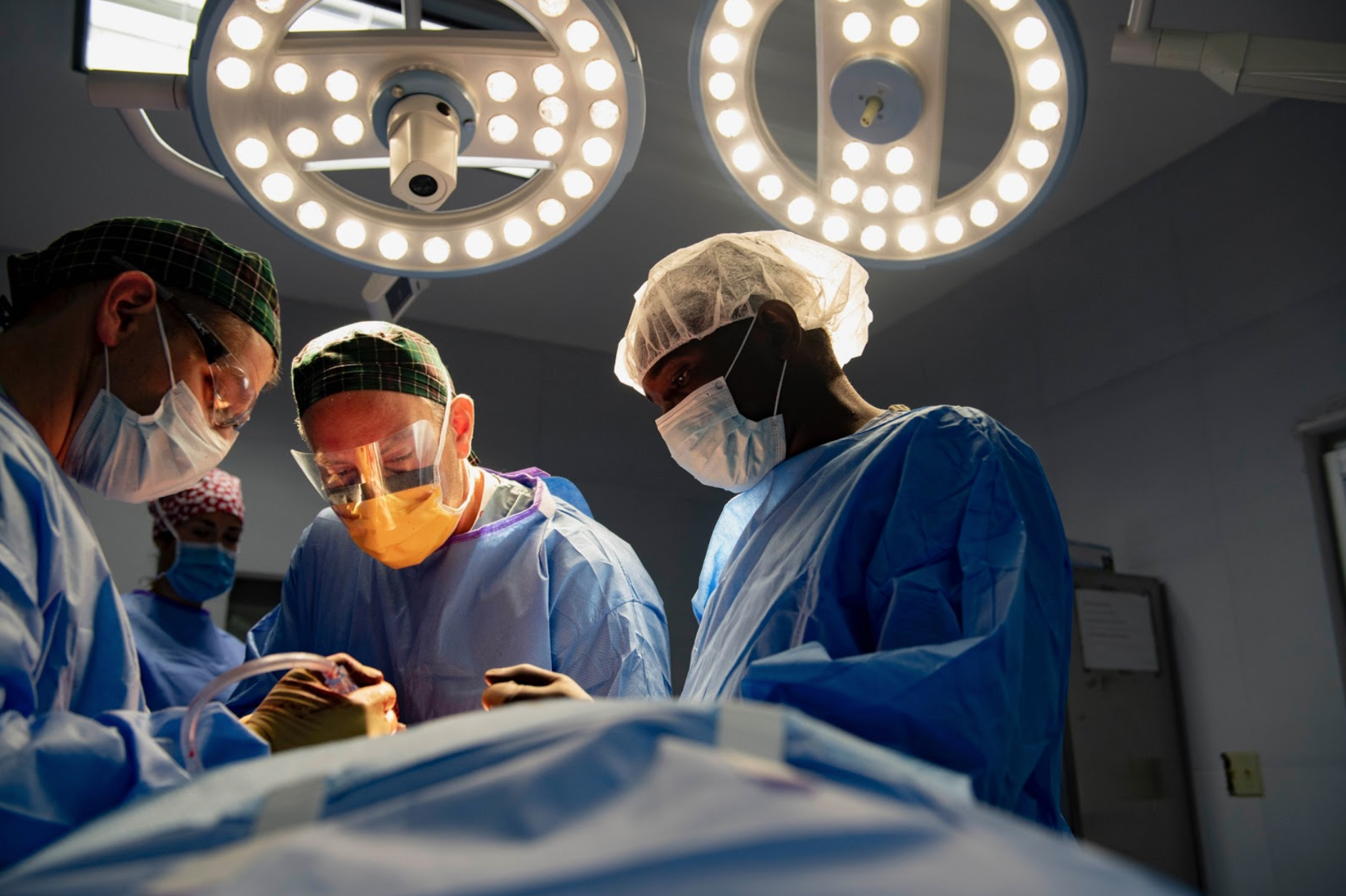 The Team Broken Earth trauma team operates at Bernard Mevs Hospital in Port-au-Prince. (Photo courtesy of Team Broken Earth)
Last month I was able to represent Arbutus Medical at Bernard Mevs Hospital in Port-au-Prince, Haiti with Team Broken Earth (TBE) as part of their global surgery outreach. Team Broken Earth sends volunteer medical teams from many Canadian cities to partner hospitals in Haiti, Bangladesh, Nicaragua and Guatemala to help build surgical capacity and expand access to safe surgery. Arbutus Medical was asked to go along to provide technical assistance as TBE would be using the DrillCover Pro and SawCover on this trip.
TBE has a longstanding relationship with Bernard Mevs having traveled there at regular intervals since the earthquake of 2010. My task at the hospital was to implement our tools but overall I wanted to support the staff of Bernard Mevs by helping out wherever my engineering skills could be useful. 
Dr. Andrew Furey, team lead for TBE, is familiar with our tools having used them in several trips in the past. He says his favorite aspect is that the tools are compact and efficient. As he noted, you can use one power tool for multiple surgeries per day by switching out pre-sterilized covers and hardware. Our tools put power in the surgeon's hands at a fraction of the cost, "Your tools are going to change the game at this hospital," Dr. Furey told me. 
Upon arrival I set to work training nurses and surgeons from both TBE and Bernard Mevs on the DrillCover Pro tools, and preparing the tools for the next day's surgical cases. Staff were very receptive to learning about the DrillCover technology.
When they heard I was an engineer, I was put to work on a key piece of the hospital's machinery, the C-Arm imager, which was malfunctioning. Over the course of a day the hospital's technician (Johnny L.) and I rebuilt the x-ray generator in the C-Arm, with support on Facetime from the company's engineers in Arizona. It was an amazing experience to see the C-Arm put into immediate use and deliver clear images for the benefit of surgeons and patients.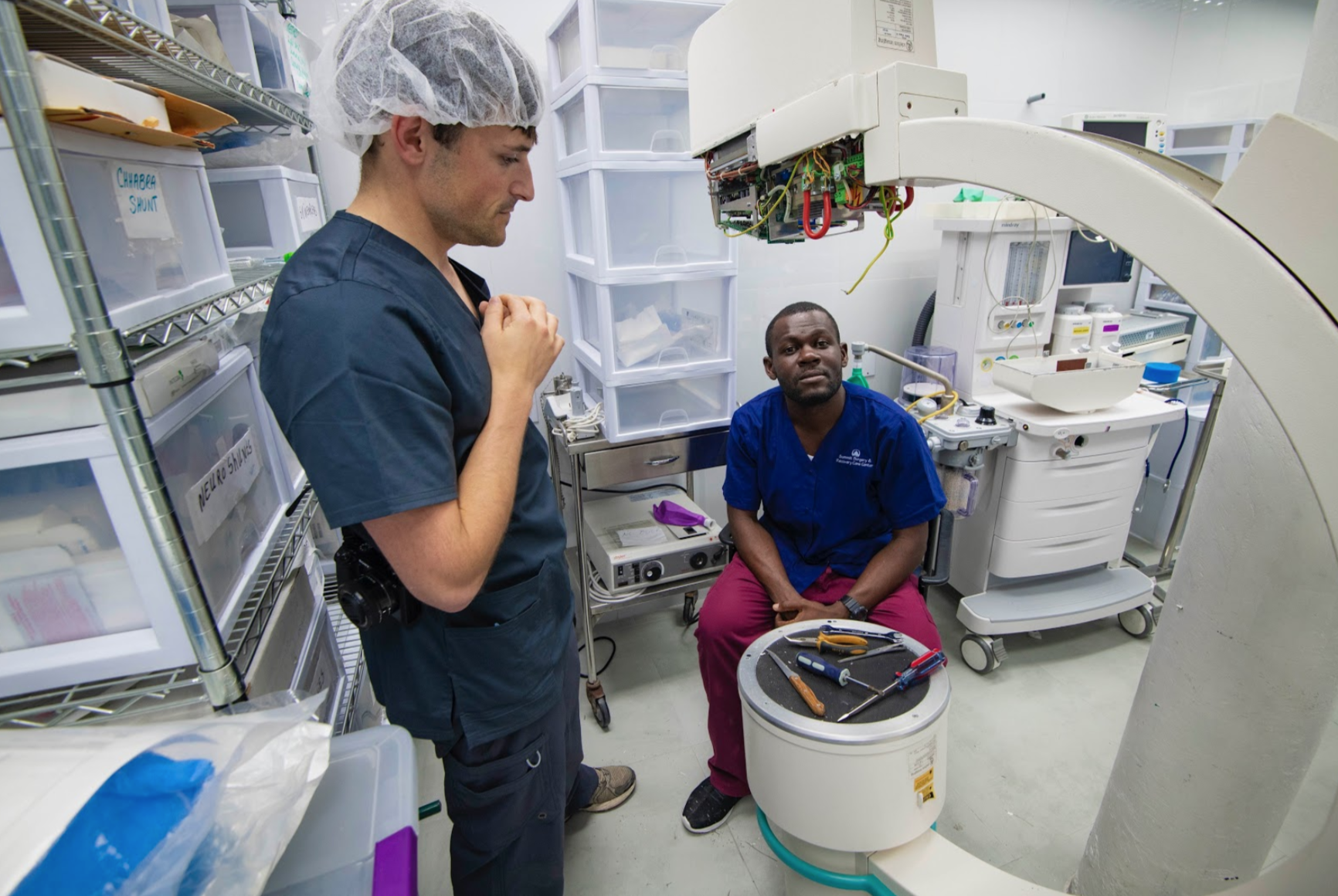 Mike and Johnny at the final stages of rebuilding the hospital's C-Arm imaging machine (Photo courtesy of Team Broken Earth)
Bernard Mevs Hospital was under pressure during my visit; there is unrest right now as the citizens demand the government step down, and that means more patients need critical care. The unrest disrupted the staff's ability to get to the hospital on some days and so the hospital had to make do with what was on hand. Irrespective of staffing, the hospital kept its doors open to new patients throughout our time there.  
The TBE surgical team, with support from the Bernard Mevs hospital staff, performed 3-5 surgeries every day during the course of the seven day trip. Our power tools were used in nearly every surgery, many were trauma cases from motor vehicle accident or gunshot. I was able to slot in to various roles to be useful where I could, sometimes a circulating nurse, sometimes a radiation tech, and sometimes simply a runner. It was remarkable to have such a positive impact.  
Medical outreach or 'medical tourism' is complex and nuanced. While visiting Haiti I was able to catch up with Haitian surgeon Dr. Jean Hippolyte, who published in the Journal of Bone and Joint Surgery specifically on this topic. In order to create lasting change, organizations need to develop long term stable relationships with partner hospitals based on mutual trust and respect. Collaborative, two-way knowledge transfer is a key component to building that respect. 
Organizations must also ask how they are building local capacity for care when they are gone, and take care not to disrupt the local capacity which already exists, but instead enrich it. It isn't easy to do. One thing TBE is doing exceptionally well is establishing near constant presence at Bernard Mevs Hospital over the last 10 years, creating strong bonds. Arbutus Medical was able to leave behind our tools at the request of the hospital, so that Bernard Mevs would have the ability to use them moving forward.
We will continue to create tools which break down barriers to safe surgery and support groups delivering essential care like Team Broken Earth and Bernard Mevs Hospital.
This work was made possible through the Government of Canada's Build in Canada Innovations Program (BCIP). Learn more about Arbutus Medical's participation in BCIP here.
Check out our other work made possible by the BCIP in Dar es Salaam, Tanzania here.