This month we are in Tanzania supporting the Canadian Network for International Surgery (CNIS) and Muhimbili Orthopaedic Institute (MOI) in Dar Es Salaam by implementing our DrillCover tools. 
MOI is one of the largest trauma centres in all of East Africa and treats about 600 orthopaedic cases per month. To enable this volume of care there are 28 ortho surgeons, seven neurosurgeons, 25 residents, and 47 OR nurses. The critical care they provide at this hospital is immensely important for the region. For us, the volume of patients being treated make our tools a great fit for the hospital, because our tools allow for rapid turnaround between cases. 
Dr. Ron Lett and Audrey Hebert, RN are on hand from CNIS to aid the implementation of DrillCover PRO and SawCover kits at the hospital with Fedja Mulabdic, our Director of Research & Development.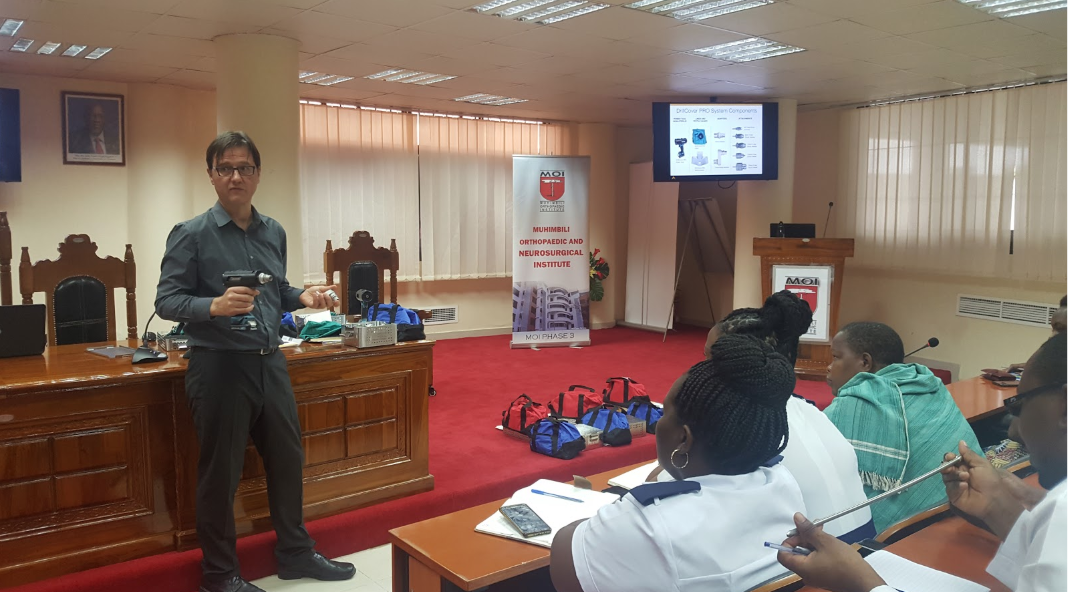 Fedja conducts a training session at Muhimbili Orthopaedic Institute in Dar es Salaam, Tanzania. 
On their first day at the hospital, they organized the new equipment and coordinated with hospital management, then met with the reprocessing department and sterilized our tools. Fedja conducted training with the hospital's reprocessing (cleaning and sterilization) department so that they would be comfortable with the new tools. 
The next day they held a large and successful training session with nurses and surgical residents. This kind of training is critical so that hospital staff has good familiarity with the tools before going into the OR. Our team continues to do additional  training throughout the trip. On the second day they operated on their first patients – three fractures: one elbow fracture in a 20 year old male, and two broken hips, one in a 12 year old female.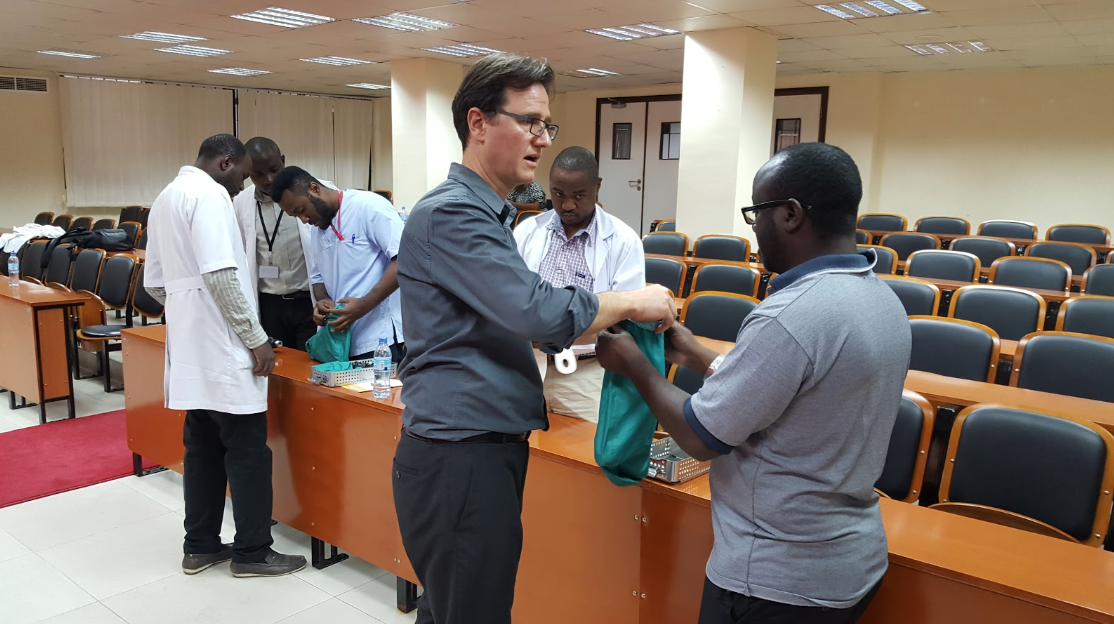 Hands on training with orthopaedic surgeons and residents at Muhimbili Orthopaedic Institute in Dar es Salaam, Tanzania.
Dr. Samwel Nungu who operated on the first round of patients gave some glowing feedback. "I knew the saw was good but the drill really impressed me," said Nungu. "I'm telling you from the heart not from the head. The drill handles beautifully, and we really, really needed them."
On the third day the team provided more training and operated on four more cases: one new hip (59 year old male), one elbow fracture (65 year old male), one ankle reconstruction (21 year old male), and one knee replacement (59 year old female). 
The cases kept coming in, and by the end of the first week the team had completed seven more cases, all with our new DrillCover PRO and SawCover kits.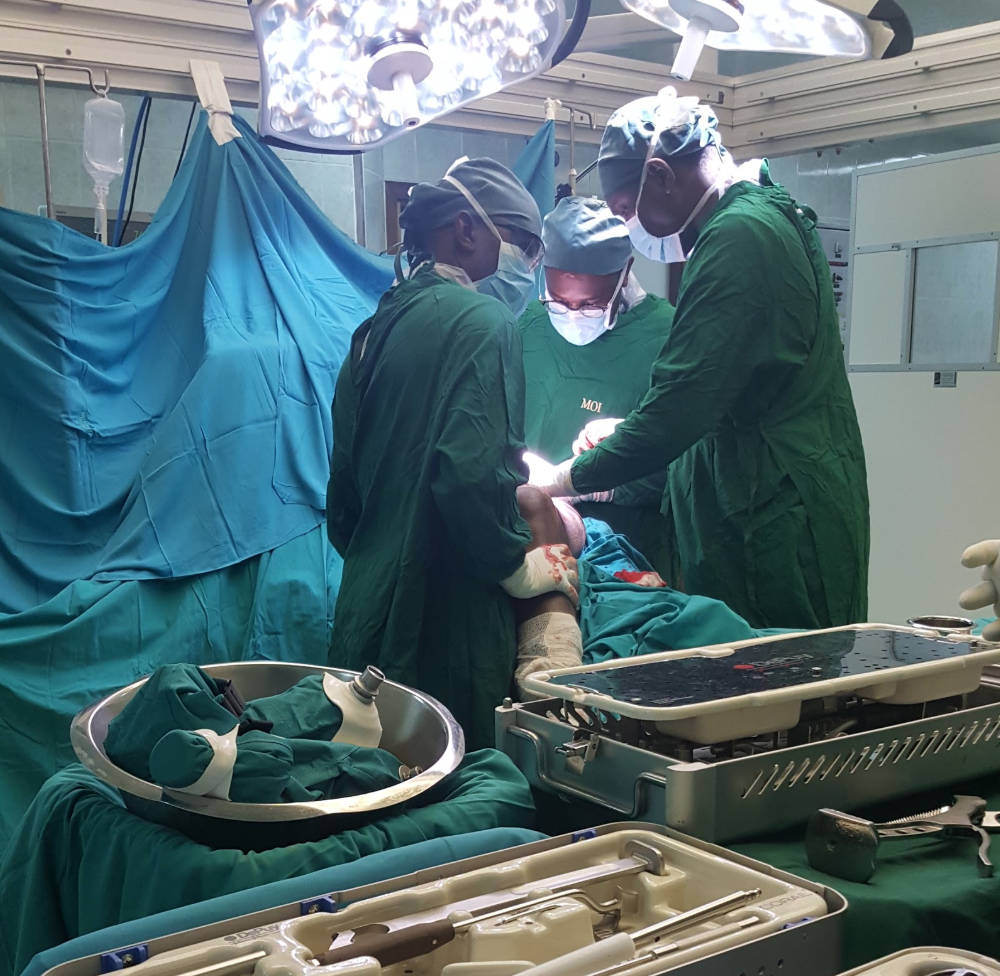 An orthopaedic case at Muhimbili Orthopaedic Institute. 
The team's takeaway so far is that Muhimbili Orthopaedic Institute is very well managed and organized, has good systems in place, and that the new tools will have a very positive impact here. The Executive Director of the hospital, Dr Respicious L. Boniface, told us that the new DrillCover PRO and SawCover kits will improve the quality of patient care and reduce the infection rate. 
The team will be at the hospital for another week, and we'll provide further updates here on their work in Tanzania.

This work was made possible through the Government of Canada's Build in Canada Innovations Program.
Check out our other work made possible by the Build in Canada Program in Port-au-Prince, Haiti here.