Haiti needs surgical tools and your help
By Michael Cancilla
The nation of Haiti was hit in August with a major earthquake, followed by a tropical storm that caused heavy rains and flooding. The death toll is estimated at more than 2,000 people with more than 10,000 people reported injured. Arbutus Medical has worked with several nonprofits that provide medical aid and services to Haiti, and our concern for the people of this country grows.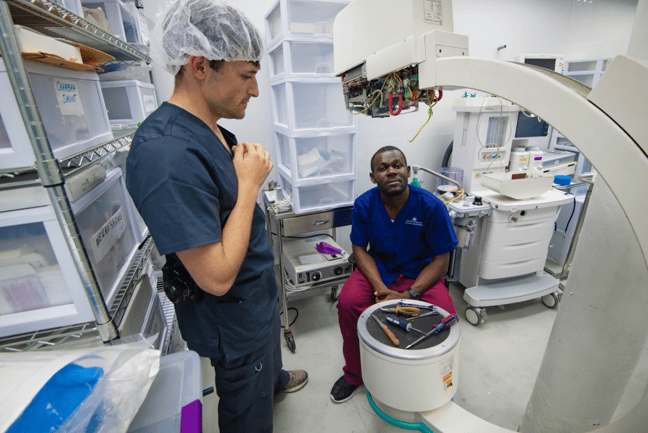 Mike and Johnny rebuilding Bernard Mevs Hospital's C-Arm imaging machine (Photo courtesy of Team Broken Earth)
Two years ago I traveled to Port-au-Prince with Team Broken Earth to bring Arbutus Medical orthopedic surgical tools and DrillCover technology to Bernard Mevs Hospital. I was privileged to meet expert nurses and doctors at the hospital and help train in using our orthopedic tools. Now those same medical professionals need our help to respond to the current crisis. 
We have expedited equipment deliveries to our non-profit partners working to help Haiti. Three deliveries have left our Vancouver offices in the last week bound for Haiti. We are working with Team Broken Earth, Médecins Sans Frontiers (MSF), Northern Arizona Volunteer Medical Corp (NAVMC), and Global Support and Development (GSD).
MSF is on the ground in Haiti providing medical treatment and working with residents. They are running mobile clinics, providing water and sanitation services, and distributing relief items across the region.
NAVMC is gathering supplies for their next travel to Haiti and raising money for Bernard Mevs Hospital, which at last count was treating 21 of the disaster victims.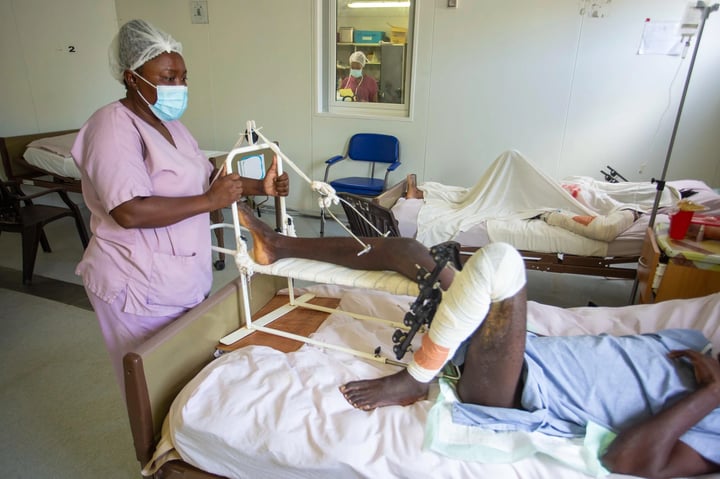 A nurse treats a patient with fractures caused by the earthquake on 14 August. Haiti, August 2021. (Photo courtesy of Steven Aristil) 
I worry for the people I worked with in Port-au-Prince and all the people of Haiti. Orthopedic injuries are all too common after major disasters like earthquakes and floods, so we hope by doing our small part we can help people get access to safe and affordable surgeries.
If you want to help, please consider donating to the non-profit organizations below:
Medicins Sans Frontiers: https://www.doctorswithoutborders.ca/article/haiti-initial-evaluations-and-first-interventions-after-72-magnitude-earthquake 
Team Broken Earth: https://brokenearth.ca/get-involved/donate/
Northern Arizona Volunteer Medical Corp: https://navmc.org/ 
GSD (supporting Dr. Pierre Woolley): https://gsd.ngo/