Peer-reviewed journal publishes study showing Arbutus Medical Products to be safe alternative to expensive surgical drills for skeletal traction performed in the ED at trauma centers. Read the full-length published study here.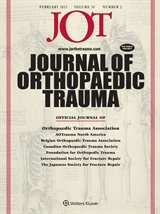 The prestigious Journal of Orthopedic Trauma recently published a peer-reviewed study that gives evidence that Arbutus Medical's DrillCover system can be used safely in trauma centers and hospitals.
The study was authored by surgeons from the University of Maryland School of Medicine and Imperial College London in the UK. The results of the study support the use of Arbutus Medical DrillCover system as it shows to be non-inferior to conventional surgical drills on infection at the site of traction pin insertion. The study is based on use of the drill at a US-based Level-1 trauma center to apply skeletal traction pins in 205 patients with femoral shaft fractures. 
Orthopedic surgeons who have used the Arbutus DrillCover system have believed for years that it is a safe and affordable alternative to expensive surgical drills, but now a peer-reviewed study provides supporting evidence. 
For more information about the DrillCover system, visit arbutusmedical.com.