International organization promotes the use of innovations like DrillCover to provide safe surgery for more people around the world
Two orthopedic experts from World Orthopaedic Concern UK have promoted using Arbutus Medical's DrillCover technology to enable more safe surgeries in low and middle-income countries.
In calling on orthopedic surgeons around the world to step up to recognize and help regions where health care needs are acute and profound, Glasgow's Alberto Gregori and Patricia O'Connor note that surgery remains, especially with the spread of the COVID-19 pandemic, a neglected component of healthcare in low resource countries.
In an article published by the World Orthopaedic Concern UK, the authors point to the Lancet Commission's Global Surgery 2030 report, which highlights that "20 million deaths a year and significant morbidity arose from lack of surgical care" in these countries. They note that even when surgery is successful, it often is accompanied by catastrophic financial implications for the patients. 
In their review of orthopedic services in low-resource countries, they note that the "lack of orthopedic service provision remains a huge challenge." 
In calling on the worldwide orthopedic community to do more, they highlight innovations designed for use in low-resource settings and single out the orthopedic drills from Arbutus Medical. They state that these DrillCover tools "have proved invaluable additions to our…surgical traveling toolbox."The article calls on surgeons to direct funding and training to appropriate tools like the DrillCover technology.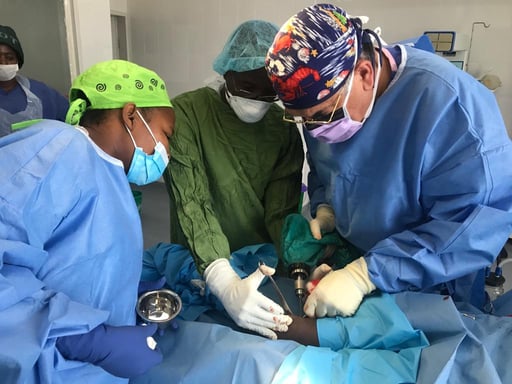 Dr. Alberto Gregori using Arbutus Medical's surgical drill, DrillCover technology
Using patented DrillCover technology, Arbutus Medical provides safe, reliable, high-quality, and affordable surgical power tools. Originally designed for low-resources countries, DrillCover tools are now in use in hospitals and trauma centers across North America, Europe, Africa, and around the world. These orthopedic power tools are also used by military field hospitals and veterinarians. To date, the company has shipped products capable of safely treating over 53,000 human patients and 38,000 animal patients across more than 36 countries worldwide.