Clara Goh is a faculty orthopedic surgeon at Colorado State University's Veterinary Medical Center. Alongside her student, intern and resident teaching, she also instructs in continuing education lectures and labs throughout the USA and abroad.
Hands-on training using wet-labs
"At the university, I am constantly learning new techniques and information and love to pass that on to my veterinary colleagues," says Goh. "I have always loved the teaching and hands-on training aspect of my career the most, so to share that with the wider vet community through continuing education labs is awesome." 
She notes that most vet school curriculums do not allow graduates to get much surgical training beyond neutering and basic mass removals. "Unless you are in an internship or residency, your ongoing surgical training is usually limited to direct mentorship from other surgeons in your practice," she says. "Surgical wet-labs give an opportunity to learn techniques that you may not have been exposed to, had the confidence to try, or just improve your techniques in procedures you may already be doing, under the guidance of board-certified surgeons."
Orthopedic surgeries in particular can be technically demanding and intimidating, so being able to see and then perform the procedure on a cadaver with help from an expert like Goh can be invaluable. 
Wet-labs to try out equipment
Arbutus Medical sponsors more than 25 wet-labs each year, including several WVC Soft Tissue and Orthopedic Surgery wet-labs like the one in which Goh is an instructor. Participants in these labs have an opportunity to try out the DrillCover tools and learn the proper way to use the DrillCover Hex and SawCover Systems to improve surgical efficiency and success rates. These sessions are a good opportunity to try particular instruments prior to making decisions about adding tools to the practice inventory.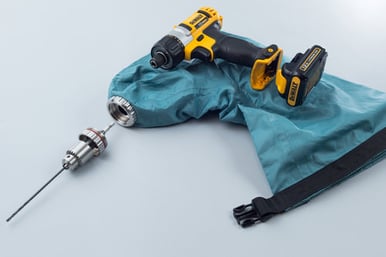 All the DrillCover Hex tools used in these labs include DeWalt drills, carefully chosen to drill at speeds that avoid bone necrosis, as well as the reusable liquid and pathogen proof fabric cover that fully envelopes the drill creating the perfect orthopedic solution for a cost-conscious veterinarian.
Power Tools in Orthopedic Surgery
"Power tools can be critical in the success of a procedure, particularly when it comes to orthopedic procedures," says Goh.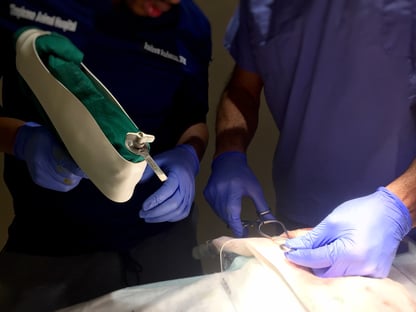 "It is amazing to see what a difference a little coaching can make. People see anatomy that they had never appreciated before, gain the confidence to finally start trying procedures like extra capsular stabilizations, and learn tips that make surgeries they previously were doing much more efficient." 
Goh notes that there are many orthopedic procedures that can be very successfully performed by a general practitioner. "Getting some good basic training in an orthopedic wet-lab and continuing to build on your skills and knowledge is a great way to build your ortho confidence," she adds.
For information on other wet-labs sponsored by Arbutus Medical, subscribe to our veterinary newsletter.