Arbutus Medical began seven years ago testing a prototype of what would become the DrillCover at Mulago Hospital in Uganda, and this Spring, we were able to fully outfit that same hospital with orthopedic tools from Arbutus Medical, thanks to a partnership with Uganda Sustainable Trauma Orthopaedic Program (USTOP) and Global Affairs Canada's Build in Canada Innovation Program (BCIP).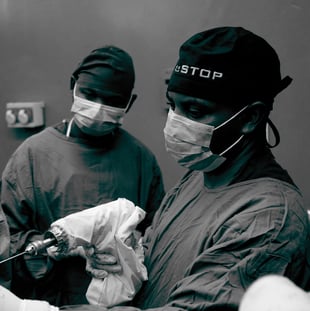 Caption – An early DrillCover prototype in use at Mulago Hospital in 2014.
"We had planned to join USTOP on one of their biannual trips to Uganda and deliver the equipment in person along with onsite training," but were unable to travel ourselves due to pandemic restrictions," says Lawrence Buchan, CEO of Arbutus Medical. "Instead, we decided to ship the product overseas and hold virtual training and installation sessions for the team in Kampala, Uganda in March."
The Arbutus Medical production team and our partners from MedAid were able to ship DrillCover products to Mulago Hospital. In total, the shipment contained 22 boxes large and weighed more than 355 kgs.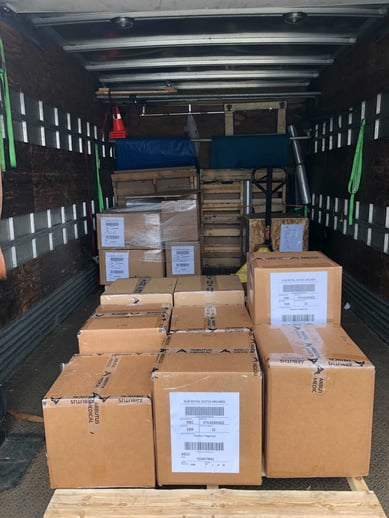 Working with USTOP was made possible by BCIP, a program launched as part of the Government of Canada's commitment to support Canadian innovators and promote Canada's economic growth. In 2019, BCIP became Innovative Solutions Canada's (ISC) new Testing Stream. 
Under the program, innovators like Arbutus Medical are matched with a federal government department to participate in the testing of an innovation. Arbutus Medical's DrillCover PRO System and SawCover System are registered as Class II medical devices with Health Canada, and are suitable for any orthopedic procedure requiring drilling, driving, sawing, or reaming. Global Affairs Canada signed on as the lead federal test department by engaging three Canadian NGOs to act as third-party test organizations of the tools in a humanitarian setting. As part of this program, a senior engineer from Arbutus Medical traveled with Team Broken Earth to Haiti in 2019 to introduce the tools at Hospital Bernard Mevs in Port-au-Prince. Arbutus Medical engineer also traveled with Canadian Network for International Surgery to Tanzania to work with Muhimbili Orthopedic Institute in Dar Es Salaam. Working with USTOP was the final part of the BCIP contract for Arbutus Medical.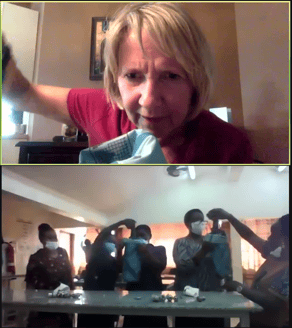 "Working with the Head of the Orthopaedics Department at Mulago Hospital, USTOP and Arbutus Medical delivered two initial training sessions via zoom to nurses, orthopaedic residents, and attending surgeons," added Buchan. "There were also two 'train the trainer' sessions with operating room charge nurses."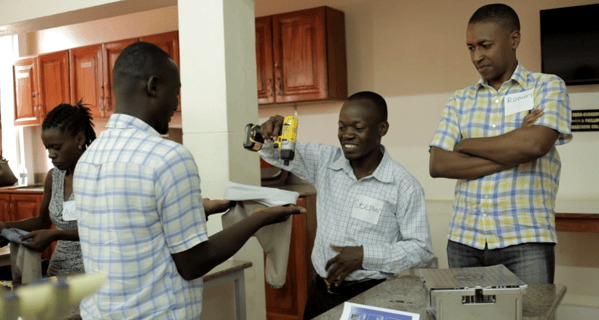 Road traffic accidents are a major cause of injury in Uganda, and Mulago Hospital sees more than 6,000 injured patients each year. Hundreds of these patients eventually require orthopaedic surgery to prevent permanent disability. The socioeconomic impact of an injury on these patients is dire. One study showed that even two years post-injury, almost 40 percent patients with leg fractures don't return to work, and their dependents don't go back to school. Most also accumulate more than US$1,000 in new debt, about 50 percent of the average patient's annual income.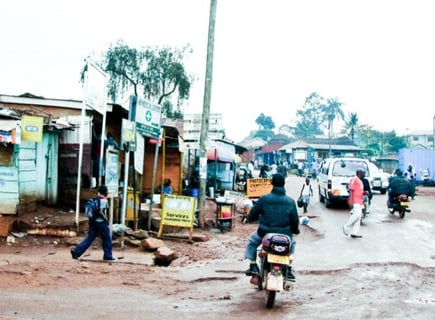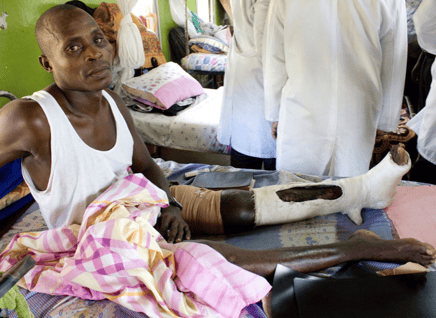 Simple orthopaedic surgery is so critical to avoid these bad outcomes, but before receiving the shipment from Arbutus Medical, Mulago Hospital reported having very few safe and functioning orthopaedic power tools, so having the DrillCover tools will make a significant impact on ensuring affordable, safe surgery is available in Kampala.
"Our DrillCover PRO and SawCover systems will make sure surgeons have access to a safe, efficient, and reliable power tool for every surgery, allowing them to focus on healing these patients and getting them back to living full lives," said Buchan.