In November last year I travelled to Tanzania to support the Canadian Network for International Surgery (CNIS) at Muhimbili Orthopedic Institute (MOI) in Dar Es Salaam. Through the Build in Canada Innovations Program (BCIP), the Canadian Government donated a number of DrillCover PRO and SawCover systems to CNIS to conduct product evaluation. Following the evaluation, the equipment was donated to MOI. My role was to provide training to MOI staff on the use of DrillCover PRO and SawCover Systems.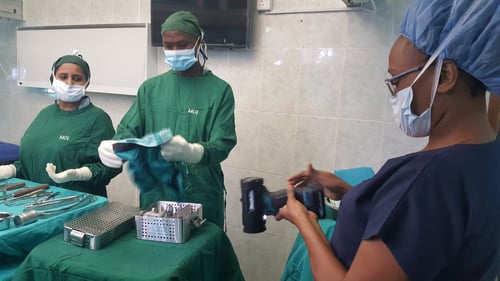 MOI is one of the largest and busiest trauma centres in East Africa. The volume of patients being treated makes the DrillCover PRO and SawCover systems a great fit for this hospital, because our tools allow for rapid turnaround between cases. Even though MOI is the largest hospital in Tanzania, the funding they receive from the government comes short of their needs and they resort to some private surgeries to help subsidize their public cases. 
Their caseload is amazing. About 600 orthopaedic cases and 150 neurosurgery cases are done per month. They are handled by 28 ortho surgeons and 7 neurosurgeons who are supported by about 20 ortho residents and 4-5 neuro residents at any given time. The surgeries are done in five orthopedic operating rooms (ORs), two neurological ORs, one pediatric neuro OR, and one emergency OR.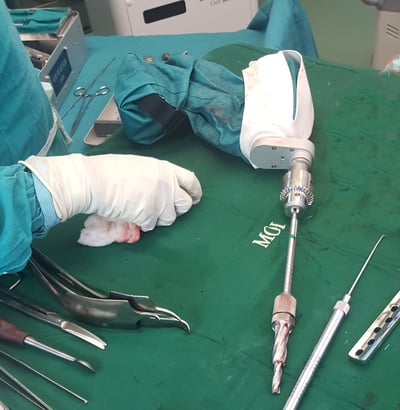 The hospital management do an amazing job stretching the available resources to push the modernization of the hospital forward. For example, they were just completing the build of their first state of the art fluoroscopy suite.
Dr. Victoria Munthali, head of orthopaedic firm B told me that getting our tools into use at MOI was incredibly important. "We had one power tool rotating and we used chisels in most surgeries because we had no saws – very limiting," she said. "More power tools means shorter surgery times. This is a very big push to our surgery." 
From the Department of Neurosurgery, specialist neurosurgeon and acting department head Dr. Laurence Lemery also stressed the importance of donated equipment. "Our power tools were old and not functioning well, often resulting in poor surgical outcomes because of the delays," he said. "This is a new milestone for surgical aspects as more surgeries can be done now because of a quicker turnover."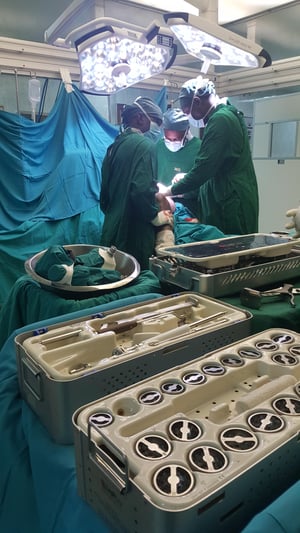 Over the several training sessions I conducted, I had a chance to meet most of the resident surgeons. They were very keen to use the new equipment in surgery. Unfortunately, they will later be sent to more remote hospitals where they won't have access to DrillCover technology. Many told me that it put them in a tough spot to learn skills they may not be able to apply. Hopefully their new hospitals are able to acquire our tools eventually as well.
The nurses I met were also very keen to learn about the equipment. We turned some of them into trainers and coaches so they can get others at the hospital trained to use our tools in Swahili. I feel for many of the staff at MOI, as they are overworked and tired, putting in very long days. They regularly come in very early in the morning and work late into the night. If one nurse is sick, others do double shifts. The commitment to their work is admirable. 
While I was there, our tools were used in more than 30 surgeries over the two-week period. There was such a variety of patients too. We saw six pediatric cases, with the youngest patient being 12 years old, and the oldest patient being 108 years old! I had to double check the chart when I saw that. He had a hip fracture, which our tools helped correct. And then they had an emergency case and the neurosurgeons decided to use the DrillCover PRO for a craneostomy. That's the first time we know of that our tool has been used for this procedure. The surgeon was very happy.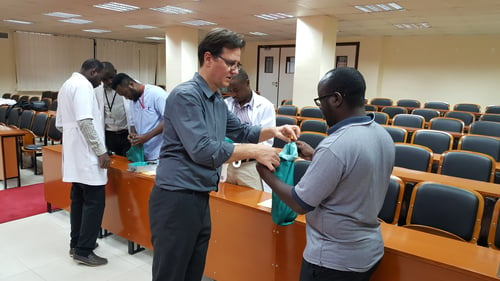 Everyone I met in Dar Es Salaam was very welcoming, and it was really great to be able to bring Arbutus Medical technology to this African hospital where it was so appreciated. I hope for the opportunity to go back for a follow-up some time in the future.
This work was made possible through the Government of Canada's Build in Canada Innovations Program (BCIP). Learn more about Arbutus Medical's participation in BCIP here.