For orthopedic surgeons and residents:
Fractures are debilitating injuries that require prompt recognition and treatment. These are largely treated through fracture fixation techniques that make use of various orthopedic implants such as plates and screws, Kirschner wires, or intramedullary nails. Achieving sufficient fracture fixation depends on a sound understanding of fracture management principles, which includes implementing good quality bone drilling techniques.
Improper drilling, on the other hand, can compromise stable fracture fixation. In particular, excessive heat generate during bone drilling poses a significant orthopedic problem that may have catastrophic consequences on fracture repair surgeries.

The central problem of excessive heat generation

Bones are comprised of living cells with regenerative capacities and an abundant blood supply. But, bone cells are at risk of irreversible damage when exposed to high temperatures. Excessive heat can cause compromise of the surrounding blood supply and will lead to bone infarction. This is termed thermal osteonecrosis and is associated with improper drilling techniques during fracture fixation surgery. 
Early on, these may be asymptomatic for patients, as the damage is only microscopic. Over time, resorbed bone can be seen on radiographs as a ring sequestrate around the screws placed into the improperly drilled tracts. These areas become a focus for complications as the resorptive process may result in loosening of the bone-implant construct or even cause catastrophic implant breakage.
In a series of research experiments in the 1980s, Dr. Anders R. Eriksson and his colleagues established that bone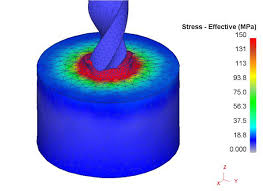 temperature and duration dictates the amount of bone damage that occurs. As an example, a temperature of 60°C for 60 seconds produces irreversible damage whereas a bone temperature of 47°C for 60 seconds produces resorption of fat cells and variable bone damage. For this reason, many consider 47°C the critical value for thermal damage to the bone. Surgeons are entreated to maintain drilling temperatures well below this value.
Practical guidelines: Controlling heat generation
Monitoring drilling temperatures is not intuitive during real-world situations. As well, there is no established consensus to prevent high temperatures during bone drilling. There is therefore a challenge for surgeons to ensure good quality drilling techniques to avoid the devastating complication of fixation failure.
Fortunately, a large body of medical literature has highlighted practical findings on techniques that prevent high temperatures during these procedures. One example includes external cooling techniques that are believed to play a large role in preventing excessive heat build-up. External irrigation using normal saline is an effective, albeit practical, method to keep temperatures below the critical value. In fact, research has frequently identified this method as the most important variable to keep the temperature below 47°C degrees during drilling.
Another practical tip pertains to using good quality drill bits. The AO Foundation is a pioneer non-government organization that oversees the education of surgeons around the world on the principles of fracture management. They believe the most important factor to prevent thermal osteonecrosis is to make use of sharp drill bits. This ensures efficient bone drilling, manageable friction generation, and, consequently, controlled heat generation. Where irrigation may decrease the temperature in the near cortical bone, excessive heat that has accumulated at the tip of a blunt drill bit can still adversely affect the far cortical bone once penetration has occurred.
Research supports this notion wherein the use of drill bit for more than 40 times can lead to an increase in temperature during drilling. Surgeons are encouraged to inspect their drill bits prior to use in fracture fixation surgery. A simple way of checking is to inspect the drill bit for the presence of reflected light on the tip. Blunt drill bits often reflect light easily from the tip, whereas sharp drill bits do not.
To a lesser extent, other considerations revolve around drill parameters that play into the drilling procedure. Drill diameter is believed to correlate with bone temperature exponentially. Axial drilling pressure, such as pressing down hard on the power drill, is more widely accepted now to influence temperature over drill speed. While drilling bone, this is believed to increase temperatures, especially when using blunt drill bits. To prevent this, drill guides are available to guide drill bits more efficiently onto bone. This avoids the need push down hard with the power drills.
Conclusion
In general, fracture fixations can be preventing through practical steps such as the use of saline irrigation during drilling and the use of sharp drill bits prevent high temperatures and ensure the integrity of bone to support stable fracture fixations.